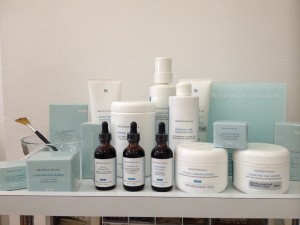 En Derma Cancun contamos ahora con la prestigiada marca  de Productos para el cuidado profesional  de la piel SKINCEUTICALS , de origen Estadounidense como resultado de varias décadas de investigación en ANTIOXIDANTES, Y CANCER DE PIEL. pioneros en el desarrollo de Cosmecéuticos.
Esta linea de maravillosos productos es lider en Innovación y Antioxidantes, una filosofia basada en  PREVENIR, PROTEGER Y CORREGIR.
PREVENIR: Hasta el mejor protector solar de amplio espectro solo bloquea hasta el 55% de los dañinos radicales libres generados por la exposicion UV.  Los antioxidantes ayudan a neutralizar las especies reactivas de oxigeno, incluyendo los radicales libres, generados cuando la piel esta expuesta a agresiones ambientales.
Skin Ceuticals sigue siendo la autoridad antioxidante desde 1997, gracias a los premiados CE Ferúlico y Phloretin CF de tercera y cuarta generación.
PROTEGER: Los protectores solares de amplio espectro SkinCeuticals  proveen una primera línea esencial de defensa contra los dañinos rayos UVA y UVB.
Esta línea ofrece una matriz de fórmulas cosméticas elegantes para diferentes tipos de piel y estilos de vida.
CORREGIR:  Cuenta con una amplia gama de productos con diferentes metodos de corrección del daño en la piel, como manchas oscuras, lineas de expresión, deshidratación, perdida de elasticidad, etc., la clave consiste en la Anti glicación, Reposición de la función de la barrera cutánea, Estimulación del colageno propio, exfoliación y aclaramiento de la piel.
In Derma  Cancun we  have nowthe prestigious brand of products for professional skin care SkinCeuticals, of American origin as a result of several decades of research in ANTIOXIDANT AND SKIN CANCER. pioneers in the development of Cosmeceuticals.
This line of wonderful products is a leader in innovation and Antioxidants, a philosophy based on PREVENT, PROTECT AND CORRECT.
PREVENT: Even the best broad-spectrum sunscreen only blocks up to 55% of harmful free radicals generated by UV exposure. Antioxidants help neutralize reactive oxygen species, including free, radicals generated when the skin is exposed to environmental insults.
Skin Ceuticals remains the antioxidant authority since 1997, thanks to the winners CE Ferulic and Phloretin CF third and fourth generation.
PROTECT: The broad-spectrum sunscreens SkinCeuticals provide an essential first line of defense against harmful UVA and UVB.
This line offers an array of stylish cosmetic formulas for different skin types and lifestyles.
EDIT: It has a wide range of products with different methods of correction of skin damage, such as dark spots, fine lines, dehydration, loss of elasticity, etc., the key is the Anti glycation Reset function the skin barrier, own collagen stimulation, exfoliation and skin lightening.